Episodes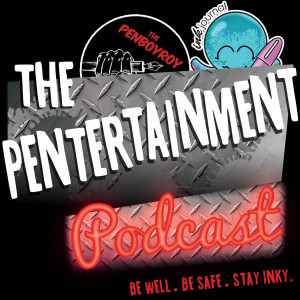 Tuesday Oct 18, 2022
Tuesday Oct 18, 2022
We went to the New York Metropolitan Pen Show (formerly known as the Long Island Pen Show) and lost our shirts, literally! Tom and I talk about our experience at the pen show, what we purchased (and didn't purchase), and how much delicious meat we ate at The Cast Iron Pot.
If you'd like to shop for a new pen or try to get Tom fired, head over to our retail sponsor, Goldspot Pens at:
https://goldspot.com/?aff=3
Use promo code ROY to get an additional 10% off throughout the Goldspot Pens store. *Excludes Sailor, Retro 51, Montblanc, Visconti, Esterbrook, Edison Pen Co., Narwhal, and TWSBI products.* Also, be sure to put #firetom in the order comments and you might get a special Pentertainment Podcast sticker with your order.
I miss my lost Platinum Curidas. For all the grief we gave this pen in an earlier Podcast episode, it grew on me and became my study buddy over the past several months. Yet, I still can't bring myself to buy a replacement for the Curidas that I lost. When I eventually do, I'll buy one of these Japanese-made, retractable nib fountain pens in RED. It looks so hot.
Don't forget to check out 
brlcoffeeco.com
 for the latest and greatest in coffee from my good friend Neil. Also, be sure to use coupon code "roy" at checkout to score extra savings on all products on the 
brlcoffeeco.com
 website!