Episodes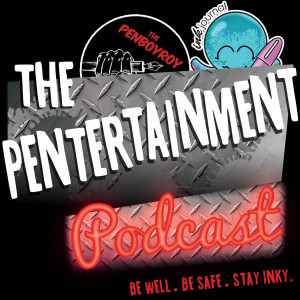 Saturday Sep 30, 2023
Saturday Sep 30, 2023
As I tumble farther down the comic art rabbit hole, Tom and I discuss using fountain pens for inking, particularly the Pilot Custom 912 with the FA soft 14kt gold nib. Plus, we talk about using fountain pen ink in artwork. Last, I share my epic 4-year master plan.
We'd love to read your comments and answer your pen (and fish) questions on a future episode. E-Mail us at
pentertainmentpodcast@gmail.com
If you'd like to shop for a new pen or try to get Tom fired, head over to our retail sponsor, Goldspot Pens at:
https://goldspot.com/?aff=3
Use promo code PARIS to get an additional 10% off throughout the Goldspot Pens store. *Excludes Sailor, Retro 51, Montblanc, Visconti, Edison Pen Co., Esterbrook, Narwhal, and TWSBI products.* Also, be sure to put #firetom in the order comments and you might get a special Pentertainment Podcast sticker with your order.
The famous holiday of trick-or-treating, lighting bonfires, and dressing up is upon us. Luxury Brands of America thinks that Benu's Hallowed Harvest is the perfect pen to celebrate the season.

This piece is crafted using a combination of dramatic black and traditional jack-o'-lantern colors to truly set the mood. And in true BENU style, it comes complemented with a dash of fire-like sparkles.

Produced as a limited edition with just 500 pens worldwide, each pen is supplied with a Certificate of Authenticity confirming its serial number, signed by BENU's owners.
The Benu Hallowed Harvest will be available at all Benu pen dealers (including Goldspot) later in October.