Episodes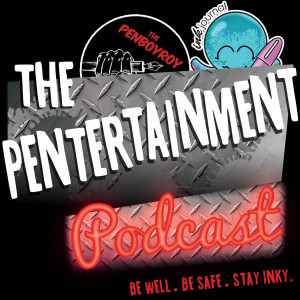 Friday Sep 08, 2023
Friday Sep 08, 2023
As I've been using my Platinum 3776 Century fountain pen for inking drawings lately, Tom and I decided to share our likes and dislikes about the 3776 Century. Stay to the end for a rapid, lightning round of Thanos, finger-snapping. 
If you'd like to shop for a new pen or try to get Tom fired, head over to our retail sponsor, Goldspot Pens at:
https://goldspot.com/?aff=3
Use promo code LUCY to get an additional 10% off throughout the Goldspot Pens store. *Excludes Sailor, Retro 51, Montblanc, Visconti, Edison Pen Co., Esterbrook, Narwhal, and TWSBI products.* Also, be sure to put #firetom in the order comments and you might get a special Pentertainment Podcast sticker with your order.
One of the pens you'll find on the Goldspot website soon is from our sponsors at Luxury Brands of America. They want you to check out the 2nd North American exclusive 3776 Century "Sands of Komodo" fountain pen. 

Inspired by the pristine tropical waters and the pink sand beaches of Komodo Island, this edition features a translucent aqua blue body with rich, rose gold appointments and 14kt gold nib.

Even as we head into the fall, this pen will whisk you to a tropical beach getaway.