Episodes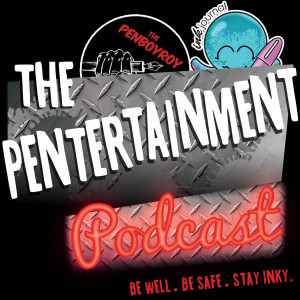 Saturday Jul 15, 2023
Saturday Jul 15, 2023
As boring as it might sound, Tom and I had a deep discussion about reading now that I bought a new Kindle Paperwhite from Amazon. We come full circle later in the podcast when we bodyslam Amazon. In between, we discuss inking comic books, and my new green screen.
After getting Tom fired at Goldspot, you can buy one of his notebooks so he doesn't have to rely on unemployment checks to feed his family. He just released the new Endless InkJournal for all you fountain pen enthusiasts who love trying out different inks. 
If you order one of these notebooks, add a #firetom in the order comments. He really can't fire himself. But, at least you can get a Pentertainment Podcast sticker to attach to your notebook.
Ballpoint pens suck. But, if you're going to write with a ballpoint pen, you might as well write with one that helps save the cute animals in the rainforest. 
This Rainforest Retro51 is a Luxury Brands of America exclusive and is limited to 500 units worldwide. Inspired by the animals in the rainforest, Luxury Brands wanted to create a pen that you would love and give back some love to the world. With this in mind, Luxury Brands of America has partnered with the Rainforest Trust, one of the world's leading Rainforest and Endangered Species Conservation organizations, and is now a member of the Rainforest Trust Corporate Conservation Circle. With the purchase of this pen, a percentage of the proceeds has been donated to the Rainforest Trust, ensuring that these beautiful animals and landscapes are here to stay for generations to come!