Episodes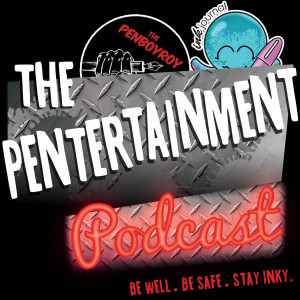 Friday Jun 23, 2023
Friday Jun 23, 2023
In this episode, we discuss the Dutch Pen Show, the Netherlands, and art - lots of art, with our friend and pen influencer, Vanessa Langton.
If you'd like to shop for a new pen or try to get Tom fired, head over to our retail sponsor, Goldspot Pens at:
https://goldspot.com/?aff=3
Use promo code GARFIELD to get an additional 10% off throughout the Goldspot Pens store. *Excludes Sailor, Retro 51, Montblanc, Visconti, Edison Pen Co., Narwhal, and TWSBI products.* Also, be sure to put #firetom in the order comments and you might get a special Pentertainment Podcast sticker with your order.
Coming in Mid-July, our friends at Luxury Brands of America will receive a trio of new Benu Talisman fountain pens infused with quartz crystal. Thankfully, Cat's Eye, Hawk's Eye, and Tiger's Eye are not made with real animal eyes. They only have the "cat's eye" chatoyance that people come to love and appreciate about Benu's shimmering pen designs. These new Talisman fountain pens use a #6 size Schmidt stainless steel nib, are filled by cartridge or converter, and are not limited. You can find them at your favorite Benu pen retailer (see Goldspot Pens above *hint*hint*).