Episodes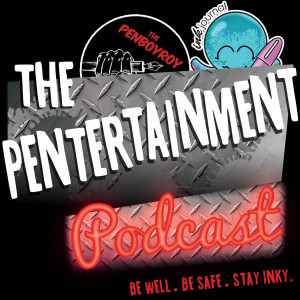 Saturday May 20, 2023
Saturday May 20, 2023
By the time you read this, I'll be breaking keto, eating a baguette on the Eiffel Tower. I'm going to Paris! In this episode, Tom and I talk about how pre-orders work in the pen industry. We discuss a new feature of the show called "Pen of the Week." Thankfully, Tom had such a pen handy to talk about - the Gravitas Micarta - Red Linen. Then, we read your comments and answer questions. 
If you'd like to shop for a new pen or try to get Tom fired, head over to our retail sponsor, Goldspot Pens at:
https://goldspot.com/?aff=3
Use promo code GARFIELD to get an additional 10% off throughout the Goldspot Pens store. *Excludes Sailor, Retro 51, Montblanc, Visconti, Edison Pen Co., Narwhal, and TWSBI products.* Also, be sure to put #firetom in the order comments and you might get a special Pentertainment Podcast sticker with your order.
Coming in Mid-July from Luxury Brands of America (distributors of Benu Pens) are two new limited edition Benu fountain pens you won't want to miss. "Swallow Song" is the first hand-painted Benu Euphoria fountain pen to be available at authorized retailers. Only 100 pieces made, each sparkling blue pen has a pair of swallows and a flowering tree branch painted on the faceted pen body. 
The second pen is another inspired pen from the Talisman collection. Limited to 500 pieces, the Talisman "Lavender" has a rich, purple, shimmering design and is made with real lavender in the body of the pen. I hope it will smell like lavender! A pre-order option is now available at some retailers.