Episodes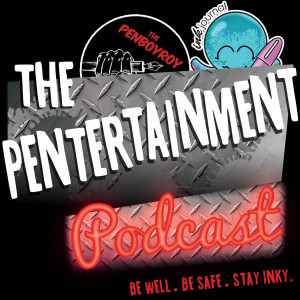 Saturday May 13, 2023
Saturday May 13, 2023
This week, Tom and I hit the mailbag hard to answer your questions and respond to your comments on YouTube. In this episode, we discuss stub nibs for left-handed overwriters, how to find new pens to collect, how to prevent inked pens from drying out, if a replacement feed is worth it, and 
should Betta fish be tankmates with other fancy guppies?
If you'd like to shop for a new pen or try to get Tom fired, head over to our retail sponsor, Goldspot Pens at:
https://goldspot.com/?aff=3
Use promo code GARFIELD to get an additional 10% off throughout the Goldspot Pens store. *Excludes Sailor, Retro 51, Montblanc, Visconti, Edison Pen Co., Narwhal, and TWSBI products.* Also, be sure to put #firetom in the order comments and you might get a special Pentertainment Podcast sticker with your order.
For this week's Luxury Brands of America sponsorship mention, Bryce wanted to let everyone know that the popular Benu Talisman Sakura fountain pen is on its way to be re-stocked at Goldspot Pens this week (May 15th). This pink and sky blue shimmery fountain pen is truly one-of-a-kind, a pen only the talented artisans at Benu can make. There are 150 pens that will complete the 300-piece edition. Goldspot will announce the specific date and time these pens will be available for sale again this week. Stay tuned.
Don't forget to check out
brlcoffeeco.com
for the latest and greatest in coffee from my good friend Neil. Also, be sure to use coupon code "roy" at checkout to score extra savings on all products on the
brlcoffeeco.com
website!