Episodes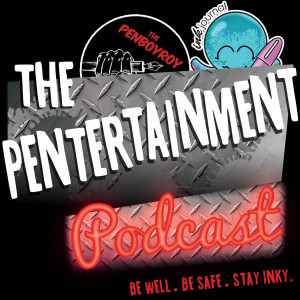 Wednesday May 03, 2023
Wednesday May 03, 2023
What does authenticity mean to you? In this episode, I open with my tendency to speak my mind without sugarcoating it. Sugar is bad for you. So not Keto-friendly. Tom and I discuss the fallout and drama that resulted from the opinions I shared last episode regarding the NY Metropolitan Pen Show. Were my opinions and perspective of the show too harsh? Were my words and criticisms "dishonest" and "misrepresenting"? Did you attend the NY Metropolitan Pen Show? What was your take on the show? If there's one thing we ask you to take away from this episode, it's to never drink fountain pen ink.
In collaboration with Benu, Luxury Brands of America, and Goldspot Pens, I'm proud to present my latest brain nugget, the Benu Skull, and Roses "Gamma Green" fountain pen. Don't worry, the pen isn't actually radioactive. It does radiate awesomeness, though. Find it exclusively at Goldspot Pens using the affiliate link below (please use it to help support the Podcast, and make sure to use the promo code!)
Don't forget to check out
brlcoffeeco.com
for the latest and greatest in coffee from my good friend Neil. Also, be sure to use coupon code "roy" at checkout to score extra savings on all products on the
brlcoffeeco.com
website!