Episodes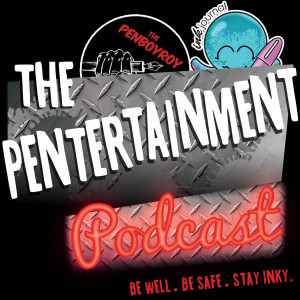 Thursday Apr 27, 2023
Thursday Apr 27, 2023
Purchase Pen here: https://goldspot.com/?aff=3 This week, Tom and I talk about the recent Long.. er NY Metropolitan Pen Show, and how it was good, and not so good.
Name my new betta fish! There will be a giveaway prize for the winner! E-mail your entries to pentertainmentpodcast@gmail.com
If you'd like to shop for a new pen or try to get Tom fired, head over to our retail sponsor, Goldspot Pens at: https://goldspot.com/?aff=3 Use promo code GARFIELD to get an additional 10% off throughout the Goldspot Pens store. *Excludes Sailor, Retro 51, Montblanc, Visconti, Edison Pen Co., Narwhal, and TWSBI products.* Also, be sure to put #firetom in the order comments and you might get a special Pentertainment Podcast sticker with your order.
From our friends over at Colorverse and Luxury Brands of America. Introducing a new Project series volume from Colorverse Ink- Nebula Special. Cosmically glistening and out of this world gorgeous
Follow me on facebook and instagram @penboyroy Be well be safe!