Episodes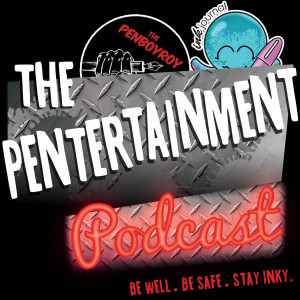 Wednesday Apr 19, 2023
Wednesday Apr 19, 2023
Tom and I kick off this week's episode with a dark discussion about Platinum's blackest black ink - Chou Kuro. Will it be a stainer like Baystate Blue? Will you need to visit a pharmacy every time you clean the pen? I talk about a new pen that came from Niv at Monteverde called The People of the World. Plus, we tease a new exclusive pen design that will appear soon on the Goldspot Pens website.
If you'd like to shop for a new pen or try to get Tom fired, head over to our retail sponsor, Goldspot Pens at:
https://goldspot.com/?aff=3
Use promo code GARFIELD to get an additional 10% off throughout the Goldspot Pens store. *Excludes Sailor, Retro 51, Montblanc, Visconti, Edison Pen Co., Narwhal, and TWSBI products.* Also, be sure to put #firetom in the order comments and you might get a special Pentertainment Podcast sticker with your order.
It is with great excitement that Platinum debuts a new ink unlike anything on the market today- Chou Kuro.

 Chou Kuro is the blackest ink ever created from Platinum in its 104-year history! An ink that is blacker than black, and 46.8% darker than Platinum's famous Carbon Black, this new permanent ink from Platinum is going to set the new standard of what is possible from permanent black ink in the fountain pen market.

This ink will be released in a limited edition set of 1,000 units first. The limited edition set will include:
• Chou Kuro bottle ink with an ink reservoir
• 1 Silver Converter
• 1 Cleaning Purified water 250ml
• 1 Cleaning Dropper
• 1 Instruction Manual
Don't forget to check out 
brlcoffeeco.com
 for the latest and greatest in coffee from my good friend Neil. Also, be sure to use coupon code "roy" at checkout to score extra savings on all products on the 
brlcoffeeco.com
 website!