Episodes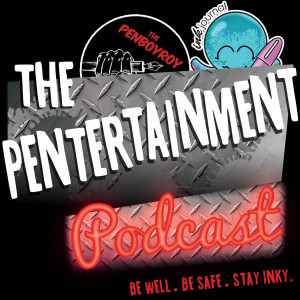 Wednesday Apr 05, 2023
Wednesday Apr 05, 2023
While we do start out the episode talking about breeding shrimp and Bryce's jailbroken betta fish, Tom shares a dissatisfying flex nib experience. It was like being served cold pizza after waiting 2 hours. You'll see. It will make sense. Or, maybe not. That will be the true test of your podcast loyalty.
If you'd like to shop for a new pen or try to get Tom fired, head over to our retail sponsor, Goldspot Pens at:
https://goldspot.com/?aff=3
Use promo code BETTA to get an additional 10% off throughout the Goldspot Pens store. *Excludes Sailor, Retro 51, Montblanc, Visconti, Edison Pen Co., Narwhal, and TWSBI products.* Also, be sure to put #firetom in the order comments and you might get a special Pentertainment Podcast sticker with your order.
Bryce was too busy this week to write one of his poetic sponsorship blurbs for the podcast. Instead, he put Tom on the spot to talk about the Benu Talisman Sakura coming back into stock at Goldspot. It's a beautiful pink and blue swirling pen with glittery flowers suspended in the custom resin. Only Benu can make such opalescent pens like this. The second half of this limited edition design is coming in Mid-May and will sell out quickly. Sign up for an in-stock notification at Goldspot to get an e-mail when it becomes available again.
Don't forget to check out 
brlcoffeeco.com
 for the latest and greatest in coffee from my good friend Neil. Also, be sure to use coupon code "roy" at checkout to score extra savings on all products on the 
brlcoffeeco.com
 website!