Episodes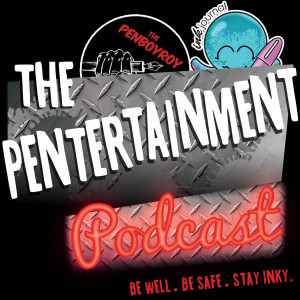 Wednesday Mar 29, 2023
Wednesday Mar 29, 2023
After dealing with two separate illnesses, the boys are back to record a new episode to catch up on all the great goings-on in the pen world. Although, how do you top the introduction of the greatest pen ever made in the history of anything made...ever? Answer: you don't. You only make accessories (like the Endless Companion leather pen case) for the greatest pen ever made. So, now that the entire pen industry is ruined, we could only talk about different topics - like fish, and the Last of Us Finale (spoilers at the end of the episode).
If you'd like to shop for a new pen or try to get Tom fired, head over to our retail sponsor, Goldspot Pens at:
https://goldspot.com/?aff=3
Use promo code BETTA to get an additional 10% off throughout the Goldspot Pens store. *Excludes Sailor, Retro 51, Montblanc, Visconti, Edison Pen Co., Narwhal, and TWSBI products.* Also, be sure to put #firetom in the order comments and you might get a special Pentertainment Podcast sticker with your order.
The new Colorverse Ink Project Volume 6 will be a stellar addition to your ink collection. If you're a fan of shimmer inks and astronomy, you'll want to get your hands on these three new glistening inks - Monkeyhead Nebula (blue), Iris Nebula (lilac), and Cats Eye Nebula (sage green). All inks in this collection have a multi-color pigment pearl that shines as beautifully as the Milky Way.
Don't forget to check out 
brlcoffeeco.com
 for the latest and greatest in coffee from my good friend Neil. Also, be sure to use coupon code "roy" at checkout to score extra savings on all products on the 
brlcoffeeco.com
 website!