Episodes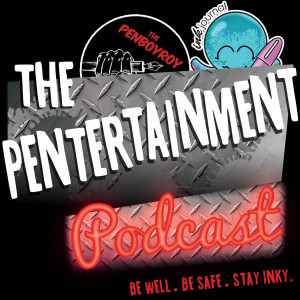 Monday Nov 21, 2022
Monday Nov 21, 2022
We're back after a 1-week hiatus with a recap of the Pelikan Hubs meetup that Tom organized with Goldspot Pens. With Black Friday coming up, we discuss what makes a good Black Friday deal versus a bad one. I also compare the Leonardo Furore fountain pen versus the Esterbrook Estie. Rollerball Paul also makes a cameo!
If you'd like to shop for a new pen or try to get Tom fired, head over to our retail sponsor, Goldspot Pens at:
https://goldspot.com/?aff=3
Use promo code OINK to get an additional 10% off throughout the Goldspot Pens store. *Excludes Sailor, Retro 51, Montblanc, Visconti, Esterbrook, Edison Pen Co., Narwhal, and TWSBI products.* Also, be sure to put #firetom in the order comments and you might get a special Pentertainment Podcast sticker with your order.
The new Partenope Alba from GIOIA, meaning sunrise, is sure to be the next bestseller from the beloved Naples-based pen maker. Swirls of dark purple, light blue, and turquoise mix with bright orange to create a beautiful scene of a sun rising over the gorgeous Gulf of Naples. Not only does this pen have a sweet Jowo writing nib, but it also has a section that converts the fountain to a ballpoint pen. Ok, maybe we forget that last part.
Don't forget to check out 
brlcoffeeco.com
 for the latest and greatest in coffee from my good friend Neil. Also, be sure to use coupon code "roy" at checkout to score extra savings on all products on the 
brlcoffeeco.com
 website!