Episodes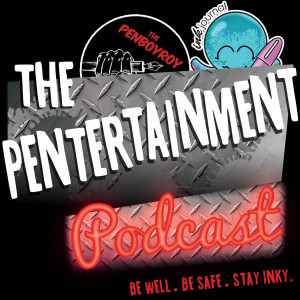 Tuesday Nov 08, 2022
Tuesday Nov 08, 2022
This week's episode is a bit messy. Tom and I recap how we spent Fountain Pen Day and what we spent (or did not spend) on pens that day. We discuss how Benu is one of the most innovative pen companies in the world for making the new Skulls & Roses pens. I share a hilarious story from my childhood that takes a dark turn. Plus, we answer a couple of e-mails (
pentertainmentpodcast@gmail.com
if you want to ask us anything to be answered in a future episode). Overall, it's the kind of spontaneous, free-flowing show you expect from the Pentertainment Podcast. 
If you'd like to shop for a new pen or try to get Tom fired, head over to our retail sponsor, Goldspot Pens at:
https://goldspot.com/?aff=3
Use promo code OINK to get an additional 10% off throughout the Goldspot Pens store. *Excludes Sailor, Retro 51, Montblanc, Visconti, Esterbrook, Edison Pen Co., Narwhal, and TWSBI products.* Also, be sure to put #firetom in the order comments and you might get a special Pentertainment Podcast sticker with your order.
For all the grief we gave Platinum over the original Curidas retractable fountain pen - it's now the pen that I wish I hadn't lost. It served me so well during my studying and I could always depend on it to quickly jot down notes wherever, whenever. It almost seems like Platinum took all of our criticisms about the first version and made a much better, retractable fountain pen. You're welcome, world. Get curious about the Curidas. It's a retractable fountain pen that won't dry out for 6 months and you can remove the clip, which is something that many people wish a Vanishing Point could do but doesn't. With a retail price under $100, it's also more affordable than a VP. You can try one out at Goldspot (remember: use the affiliate link & the coupon code!) or another Platinum Pen retailer of choice.
Each pen is individually numbered and is limited to 50 pieces worldwide, these will go fast so don't wait! Once they are gone, they are gone forever. 
Don't forget to check out 
brlcoffeeco.com
 for the latest and greatest in coffee from my good friend Neil. Also, be sure to use coupon code "roy" at checkout to score extra savings on all products on the 
brlcoffeeco.com
 website!