Episodes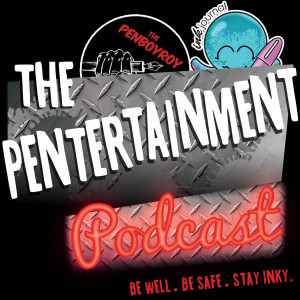 Wednesday Oct 12, 2022
Wednesday Oct 12, 2022
Would you like a brownie? We're back with another side-splitting episode that won't leave your tines bent out of shape. This week, Tom and I talk about pen show etiquette in preparation for the upcoming Long Island Pen Show (a.k.a. New York Metropolitan Pen Show) that we will attend on Saturday. Come say "hi" and get a free PenBoyRoy t-shirt.
If you'd like to shop for a new pen or try to get Tom fired, head over to our retail sponsor, Goldspot Pens at:
https://goldspot.com/?aff=3
Use promo code ROY to get an additional 10% off throughout the Goldspot Pens store. *Excludes Sailor, Retro 51, Montblanc, Visconti, Esterbrook, Edison Pen Co., Narwhal, and TWSBI products.* Also, be sure to put #firetom in the order comments and you might get a special Pentertainment Podcast sticker with your order.
Why is it that the Platinum Izumo Galaxy pens take so long to be made? Is it that there is only one artisan in Platinum responsible for inlaying every piece of abalone shell and coating the pen with seven layers of urushi? Or, does Platinum have to wait for certain planets to align (or some other celestial event) to release more Izumos into the wild? Or, could Platinum be secretly run by Nintendo, who never makes enough to satisfy world demand? At any rate, the Izumo Galaxy fountain pens won't last long and you don't want to miss out.
Don't forget to check out 
brlcoffeeco.com
 for the latest and greatest in coffee from my good friend Neil. Also, be sure to use coupon code "roy" at check out to score extra savings on all products on the 
brlcoffeeco.com
 website!