Episodes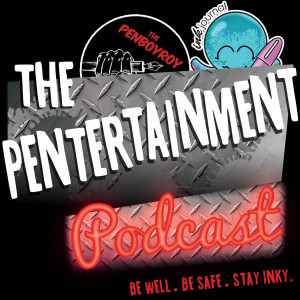 Tuesday Sep 27, 2022
Tuesday Sep 27, 2022
If this episode could be boiled down into one theme, it would be this: a consumer should get what they pay for. Whether it's lattes or high-end fountain pens, people deserve to spend their hard-earned money on something that will bring commensurate value. After all, in this current economic climate, we all need to be more conscientious about every dollar spent. We can ill afford to be wasting our money (or precious time) on puffery and broken promises. That being said, if you re-evaluate your decision to listen to the Pentertainment Podcast, we appreciate every subscriber!
If you'd like to shop for a new pen or try to get Tom fired, head over to our retail sponsor, Goldspot Pens at:
https://goldspot.com/?aff=3
Use promo code ROY to get an additional 10% off throughout the Goldspot Pens store. *Excludes Sailor, Retro 51, Montblanc, Visconti, Esterbrook, Edison Pen Co., Narwhal, and TWSBI products.* Also, be sure to put #firetom in the order comments and you might get a special Pentertainment Podcast sticker with your order.
There's an unwritten rule in the world of luxury goods - the harder it is to pronounce the brand name, the more expensive it sounds. So, when you wrap your pens in "Girologio" leather cases, be assured you are placing them in the lap of luxury. Girologio has cases for collections of all sizes - from a couple of pens to an entire suitcase. Handcuffs are sold separately.
Don't forget to check out 
brlcoffeeco.com
 for the latest and greatest in coffee from my good friend Neil. Also, be sure to use coupon code "roy" at check out to score extra savings on all products on the 
brlcoffeeco.com
 website!